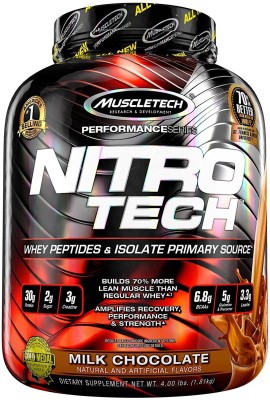 Muscletech Performance Series Nitrotech Whey Protein(1.81 kg, Milk Chocolate)
Rs. 6,499


Rs.

4,190
in stock
as of October 15, 2020 2:23 pm
Highlights
Form: Powder | Shelf Life: 36 Months
Vegetarian
Usage Post-workout
Protein Type: Whey Protein
Dietary Preference: No Trans Fat
Specifications
In The Box
Sales Package
1 Protein Barrel
General
Brand
Muscletech
Model Number
MT0052
Quantity
1.81 kg
Flavor
Milk Chocolate
Protein Type
Whey Protein
Usage Timings
Post-workout
Form
Powder
Dietary Preference
No Trans Fat
Composition
Dietary Fiber 1g, Cholestrol 30mg, Total Fat 1.5g, Total Carbohydrate 2g, Sugar 1g, Protein 30g, Sodium 140mg, Trans Fat 0g, Saturated Fat 1g, Calcium 100mg
Number of Scoops per Container
49
Ayurvedic
No
Shelf Life
36 Months
Container Type
Jar
Food Preference
Vegetarian
Serving Size
37 g
Model Name
Performance Series Nitrotech
Daily Value Features
Calorie
140 cal
Total Carbohydrate
1 %
Protein
60 %
Fat
2 %
Sodium
6 %
Saturated Fat
5 %
Cholesterol
10 %
Calcium
11 %
Important Note
Product information provided by the seller on the Website is not exhaustive, please read the label on the physical product carefully for complete information provided by the manufacturer. For additional information, please contact the manufacturer.
Nitro-tech is a scientifically engineered whey protein formula, and is enhanced with the most studied form of creatine for even better gains in muscle and strengthUsing these proteins on a daily basis is vital in helping to increase muscle protein synthesis for more muscle size and strength, It...
Form: Powder | Shelf Life: 36 Months
Vegetarian
Usage Post-workout
Protein Type: Whey Protein
Dietary Preference: No Trans Fat