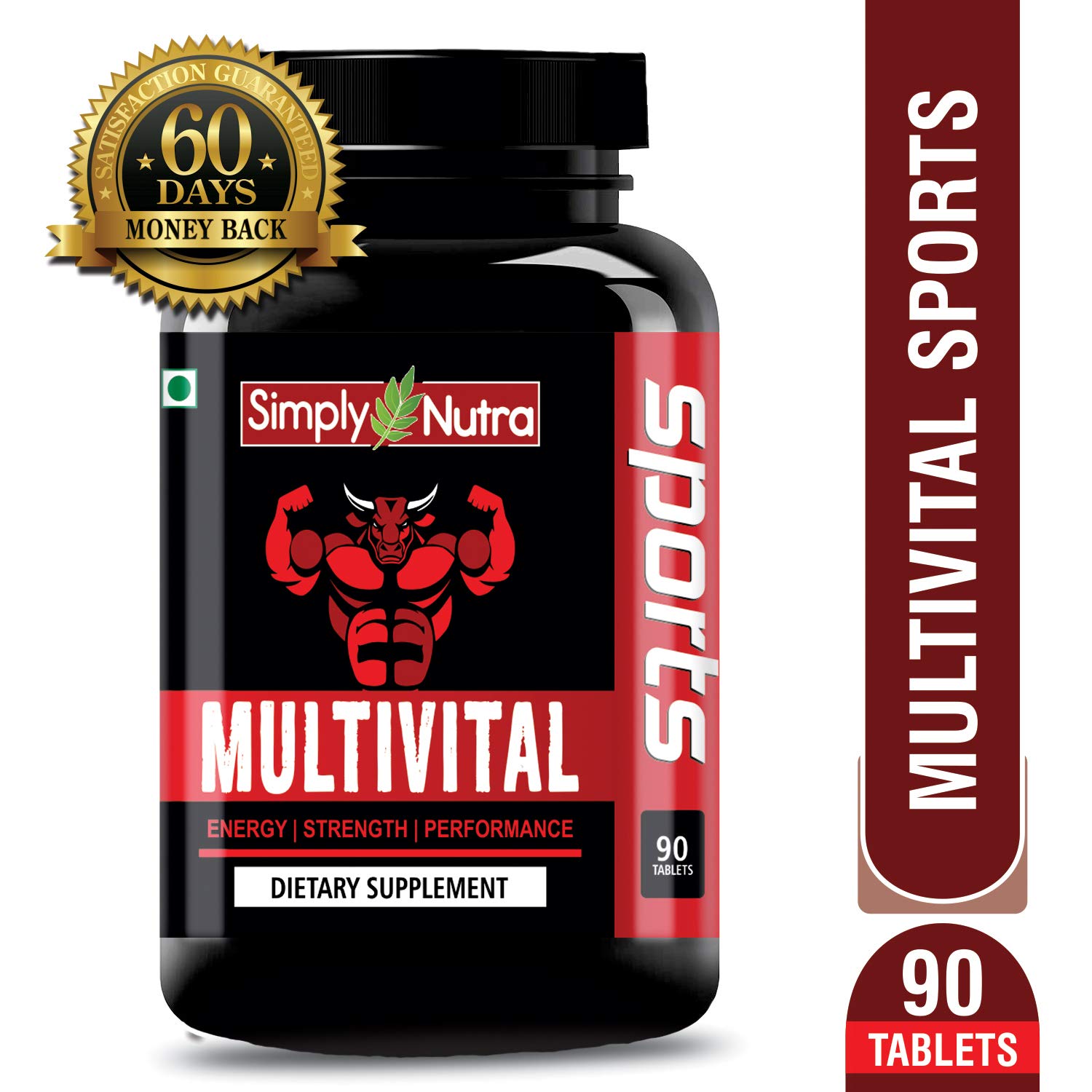 Simply Nutra Multivital MultiVitamin Sports with 60+ Nutrients – 90 Tablets (Vitamins, Minerals & Amino Acids) & Probiotics

Simply Nutra Multivital MultiVitamin Sports with 60+ Nutrients - 90 Tablets (Vitamins, Minerals & Amino Acids) & Probiotics
Rs. 1,499


Rs.

549
in stock
as of September 7, 2020 1:56 pm
Look and feel great with this Simply Nutra Sports Multivitamin formula! Supports better energy conversion from food while boosting energy levels, and strengthen bones while promoting breast health Multivitamin. Key target areas; - Promotes Healthy Heart - Helps Strengthen Immune & Digestive...
User reviews
I'm quite active with lifting weights and I generally don't sleep well. I really feel a difference with these when taken as directed. I generally take 1 tab after lunch. When I don't take them my sleep isn't as restful which is important because I'm not a good sleeper. I felt the biggest difference in the first week. Now I think I'm used to this. I will say that for the first time in 8 years my health numbers - particularly my cholesterol- were all great. I am also on Mikes general cutting diet for women at 140. I don't know how much these helped but I definitely feel committed to these. I hope the formula stays the same. I don't know if it can get any better. I appreciate having 8 pills with the appropriate quantities of everything... no need to take a vitamin with sub optimal levels of nutrients. This one is a winner.
Fack review given on this product and all reviewer are fack thear is not mention it's constituent on the product and also not approved by any organisation like ISO and other.
"After taking multi vitamins for the past 25 years I have spent many years searching for the ""Best "" and most complete multi vitamins on the market. Simply Nutra is the absolute most complete and potent blend of minerals and vitamins that are available today on the market bar none. I have more energy for long workout sessions in the gym. I have clear focused days of balanced energy. Most importantly I sleep better than I ever have. This allows my body to recover from every day stress and strains of workouts or daily life's workloads. I highly recommend that you try this product for 30-90days and see the results of this product and the healthy lifestyle it will afford you. Thanks Simply Nutra Team for your commitment to producing Top Quality Nutritional supplements."
I have big trouble with multivitamins making me so nauseated that I can't keep them down, so they don't do me any good. For awhile I gave up on vitamin supplements but I was having many symptoms of vitamin deficiency including muscle cramping, fatigue, hair loss, brittle nails, memory trouble, and more. I went looking for a solution and tried several vitamins that were supposedly easy on the stomach and found Simply Nutra Multivitamin sports which is a great multivitamin with the bonus for me of absolutely no nausea. Since starting this all my deficiency symptoms have subsided and I'm back to myself. I am extremely happy with this High Performance Multivitamin.
"Honestly saying, there are lots of products offering the vitality and immune system support but not all are true. i found this one on search and bought immediately because it was looking great and some reviewers had good results. I want you all to know that the results are not immediate, but it will take time. but that you will be happy,.What it has ?- it has Vitamin C, B3, B5, B6, B2, B1, Vitamin A.- It has Folic acid that makes more red blood cells in human body.- Vitamin B12 that also makes red blood cells and support immune system.- It has biotin that makes hair and nails looks great.- it has all support ingredients like zinc, magnesium, potassium, iron, calcium, phosphorus that all very beneficial to human body.i am taking from one month, still i have not seen any side effects.--Main ingredients and its benefits:-Vitamin A :- Vitamin A is vital for growth and development, cell recognition, vision, immune function, and reproduction and helps the heart, lungs, and kidneys.Vitamin C :- Vitamin C helps to repair and regenerate tissues, protect against heart disease, aid in the absorption of iron, prevent scurvy, and decrease total and LDL ("bad") cholesterol and triglycerides.Vitamin E :- Vitamin E is necessary for structural and functional maintenance of skeletal, cardiac, and smooth muscle.Calcium :- Calcium is vital for bone health."
Buy from Amazon get Simply Nutra Multivital MultiVitamin Sports with 60+ Nutrients – 90 Tablets (Vitamins, Minerals & Amino Acids) & Probiotics at the lowest price. Grab more deals & coupons from top online stores Amazon, Flipkart, Paytm, etc.