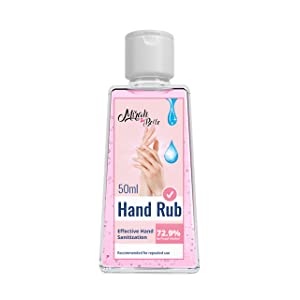 Mirah Belle – Hand Rub Sanitizer (50 ML) – FDA Approved (72.9% Alcohol) – Best for Men, Women and Children – Sulfate and Paraben Free – Pocket Size Hand Cleanser

Mirah Belle - Hand Rub Sanitizer (50 ML) - FDA Approved (72.9% Alcohol) - Best for Men, Women and Children - Sulfate and Paraben Free - Pocket Size Hand Cleanser
as of September 7, 2020 11:13 am
The Mirah Belle Hand Rub is an effective formula which ensures total hand hygiene. It contains natural extracts and glycerine which has unique moisturizing and anti-oxidant properties. It can keep all the harmful particles away and has an overall sanitization effect.
User reviews
The product is a blessing at this time, it has a really good fragnance and the best part no irritation/burning after long use.I really liked it and ordered another variant for house use as well
This is a great product in such a cute little bottle. It's so handy that i can carry wherever I go. Absolutely the need of the hour product and worth the purchase...
This is fake literally i m saying dont buy this product i got this product in 47rs. But at the back of the bottle it is clearly written mrp. Rs 25 dont buy
In such a situation, where sanitizers are either not available or only of local brands, I was able to get my hands on this one. Not a single complain, as1) I received a pump dispenser, and measures were taken to make sure it doesn't leak.2) As far as the smell, texture, and consistency of the sanitizer are concerned, it is really good and not diluted at all!3) The brand of Mirah belle always trusted and high quality.4) The efficient and effective delivery by amazon!
Very easy to carry ....small and compact in size....comes in a good packing...properly sealed pack...quality is also good ..
Buy from Amazon get Mirah Belle – Hand Rub Sanitizer (50 ML) – FDA Approved (72.9% Alcohol) – Best for Men, Women and Children – Sulfate and Paraben Free – Pocket Size Hand Cleanser at the lowest price. Grab more deals & coupons from top online stores Amazon, Flipkart, Paytm, etc.