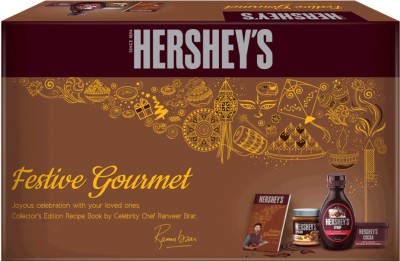 Hershey's Chocolate and Syrup Gift Box Combo(420 g)
Rs. 500


Rs.

461
out of stock
as of September 3, 2020 5:04 am
Specifications
In the Box
Package Contents
1 Chocolate Flavored Syrup - 200 g, 1 Cocoa Low Fat Cocoa Powder - 70 g, 1 Spreads Cocoa with Almonds - 150 g, 1 Collector's Edition Recipe Book
General
Brand
Hershey's
Model Name
Chocolate and Syrup Gift Box
Primary Product Type
Jams & Spreads
Secondary Product Type
Jams & Spreads
quantity
420 g
Maximum Shelf Life
11 Months
Important Note
Product information provided by the seller on the Website is not exhaustive, please read the label on the physical product carefully for complete information provided by the manufacturer. For additional information, please contact the manufacturer.
Hershey's Festive Gourmet pack includes a range of products- Hershey's Chocolate Spreads, Hershey's Chocolate Syrup and Hershey's Cocoa Powder. We have also included a collector's edition recipe book by celebrity chef Ranveer Brar that encompasses the best dishes from all corners of India for...
Buy from Flipkart get Hershey's Chocolate and Syrup Gift Box Combo (420 g) at the lowest price. Grab more deals & coupons from top online stores Amazon, Flipkart, Paytm, etc.